"The Sea as a Common Place"
Exhibition and discursive programme taking place on Viking Line ship Amorella, during the cruise between Stockholm an Turku, in May 2019. The project is curated by Jasmina Šarić as part of a degree project within Curating Art, International Master's Programme at the Department of Culture and Aesthetics, Stockholm University.
Programme
Exhibition
Route: Stockholm-Turku-Stockholm
25.05. 17:00-21:00
26.05. 10:00-17:00
m/s Amorella
presented in three cabins on the deck 7, next to duty free shop
Screening of the film "Amorella" by Lordan Zafranović (20')
Route: Stockholm-Mariehamn-Turku
25.05. 21:30
m/s Amorella
Panorama Bar on the deck 9
Artist talk
Route: Stockholm-Mariehamn-Turku
25.05. 22:00
m/s Amorella
Panorama Bar on the deck 9
To attend the event, visitors have to get on board Amorella (route Stockholm-Turku) on Saturday May 25th. The ship leaves at 20:00 from Stadsgården. There is a possibility to do the cruise Stockholm-Turku-Stockholm (departure from Stockholm: Saturday 25th 20:00; arrival in Stockholm Sunday 26th 18:55).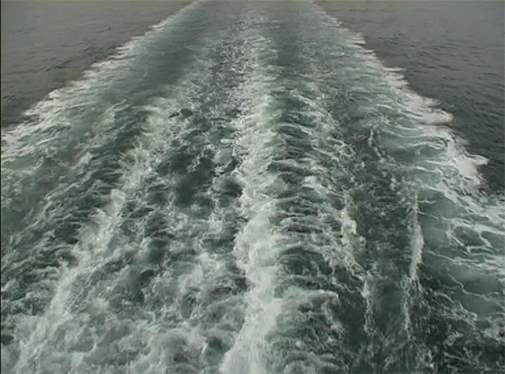 Urban locations, impregnated with a meaningful history, current ambiguity and the feeling of future non-existence - for more than a decade, Croatian artist Duška Boban has been trying, through the photography, to awaken repressed memories and stimulate different potentialities in the development of urban life. Her last art project thematizes maritime identity of the city, its workers and travel, with a particular focus on ships that were built in her hometown Split and are still sailing around the world. One of them is Amorella, whose launch in 1988 is remembered by generations as one of the highest achievements of once internationally respectable shipbuilding industry of Split. Since then, and for thirty years now, Amorella has been sailing on the same route between Turku, Mariehamn and Stockholm.
In return for the exhibition and a book entitled "Amorella – a Floating City" recently presented in Split, Amorella honours the place where she was born and hosts an exhibition of earlier works by Duška Boban: The Way Home, Dinner Invitation and Modern City. Through the sea as a connecting point, the exhibition tells us a story about the memory, place and belonging - for what is common – being in the Baltic, Meditarenean, or any other place on the Earth.
About the artist
Duška Boban graduated from the Academy of Fine Arts, University of Zagreb in 2000. In 2013, she completed the postgraduate study in visual communications, Academy of Fine Arts and Design in Ljubljana, Slovenia, where she conducted a research on urban identity which resulted in the final master's degree thesis entitled "Public space and civic participation: Activism and Cultural Practices in Split during the last decade". She works as a teacher of Photography, Video and Media Projects in School for Design, Graphics and Sustainable Building in Split.
More on her artwork you can find on: www.duskaboban.net
This project is supported by Viking Line and the Embassy of the Rupublic of Croatia in Sweden.