Intimacy Manifesto (The End of Property Relations)
Intimacy Manifesto (the end of property relations) is a sleep over and slow cooked meal with Maria Guggenbichler, developed for School in Common, taking place on the 7th and 8th of April in Residence Botkyrka. This is a degree project within the International Master Programme in Curating Art, at the Department of Culture and Aesthetics.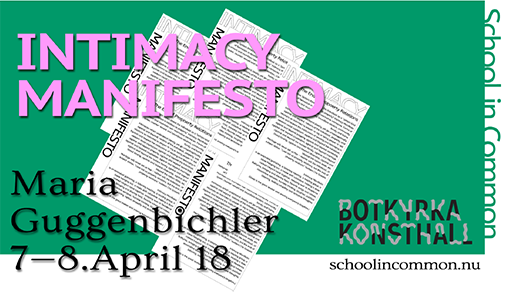 Intimacy Manifesto murmurs and mumbles non-normative intimacies. Forms of queer, counter-sexual and boundless relation, community, family and home. Intimacies which understand clearly, yet go unapologetically against and beyond, notions of the individual, property, and relations as restricted to proper-ti-ing or being proper-ti-ied.
Intimacy Manifesto is an extended gathering, a listening meeting, a reading group, a loose hanging out, a make shift collective; making a slow cooked (vegan) roast together, sleeping over at Residence Botkyrka, bringing and sharing food, favorite songs and noises, associative samples, humble thinking, laughter, political listening, radical empathy and tentative thoughts.
Places are limited, please RSVP
Note: if you would like to join, please RSVP on rsvp@schoolincommon.nu - places are limited, first come first serve!
Maria Guggenbichler
Maria Guggenbichler thinks and un-thinks, laughs, dances, plays, doubts, tricks, listens, talks, walks, organizes, works and sabotages, publishes, hides, and spoils the broth with too many cooks, partners-in-crime and friends. Projects take place in ongoing and long-term collaborations and friendships. And situate themselves in informal, often domestic and selforganized contexts. Maria lives and works between Amsterdam and the mountains.
School in Common
School in Common is a nomadic, self-organised school initiated in Stockholm in 2017 by friends and collaborators Alen Ksoll and Rosa Paardenkooper, second year students at the Curating Art programme. Combining ideas from critical pedagogy with core values of commoning, it sets out to create an environment for discussing, learning and being in common, fostering collaboration, mutual recognition and support. School in Common intends to make all material accessible to a wider audience. The activities are always free and open to everyone.
Residence Botkyrka
Residence Botkyrka is Botkyrka konsthall's context-specific residency programme active within the interdisciplinary field of art, architecture, food and social practices. The programme encourages new forms of artistic research and art practices that engage in a local context.
Intimacy Manifesto is organised by School in Common with the support of Residence Botkyrka and the Curating Art programme at Stockholm University.