Waheeda Baloch, class of '11
- When I applied for the programme, I was basically an artist and art educator. I had a fine arts degree and was teaching at the Institute of Art & Design before coming to Stockholm, but didn't know about the wide field of curating art that I was introduced to through the Master's programme at Stockholm University. Curating in Pakistan needed to develop a lot and we still don't have any institutions where one can get such specialized degree.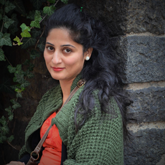 - My final exhibition was titled Items of Dual Use. Although it was a big challenge, it went well with the practical knowledge that I got during my studies in curating, with all necessary aspects including Art, Law and Management. The project was not only exhibited at Stockholm University but also taken to Pakistan, where it was opened at the VM Art Gallery in Karachi. It also came to Wip:Stockholm, a Kunsthalle just outside town.
- There were four artists selected for this exhibition: including Ayesha Jatoi and Muzzumil Ruheel from Pakistan, Lina Persson and Henrik Andersson from Sweden. In order to finance the artists' works and travels, I applied for and got funding for the project from the Swedish Arts Council (Kulturrådet) and Vasl Art Collectives in Pakistan. Henrik Andersson went to Pakistan with me and partook in a residency programme there, at Vasl Art Collectives. He also shared his work with artist groups in Pakistan. This exhibition was well covered by the Pakistani Media.
- For the master thesis, I had done a case study of an exhibition called Hanging Fire: Contemporary Art from Pakistan. The aim was to see how a neo-oriental approach effected Pakistani art when it was displayed in New York. This study was connected to my exhibition project because it discussed different approaches to exhibiting Pakistani art outside of Pakistan.
Developing a residency programme
- Right after graduating from Stockholm University, I registered as PhD student at the Department of Asian ad Islamic Art History, Bonn University in Germany. Last year I returned to a job as Assistant Professor at University of Sindh in Jamshoro, Pakistan. Now I write about art, artist and exhibitions and am also involved in bringing awareness about curating in Pakistan. I have curated a few exhibitions in Pakistan including The "Left" to Choose at the Artchowk Gallery in Karachi. These days I am busy developing a residency programme and looking forward for my upcoming new exhibition projects.
- Generally, I am interested in investigating history, language, and how biased opinions have taken over our lives. My new exhibition project looks into Pakistani Art History and the present conditions of the Museums in Pakistan. The research is a basic element behind my exhibitions.
Last updated: November 8, 2017
Page editor: Joanna Bong Lindström
Source: Department of Culture and Aesthetics