Stefanie Hessler, class of '11
- I did my undergraduate studies at Zeppelin University in Germany, focusing on art theory within the cultural management programme. Before moving to Stockholm I lived in Santiago de Chile, where I worked for the Biennial of Media Arts at the Museum of Contemporary Art, and as associate curator at the gallery and project space Die Ecke.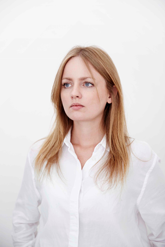 - As my final project, I founded a curatorial platform through which I organised exhibitions, wrote texts, and invited other curators and writers to contribute. My master thesis looked at how performance art is changed through technological advancements and in digital media.
- After graduating I first worked at Galerie Nordenhake, and then as Studio Director for Carsten Höller. Simultaneously, I continued my independent curatorial practice working internationally, namely in Brazil, Chile, and Germany. I started contributing to ArtReview and exhibition catalogues such as for the Museum DKM in Duisburg and Moderna Museet in Stockholm, and in 2013 I participated in the Capacete programme "Typewriter" in São Paulo for several months, which was dedicated to writing as a curatorial tool. The same year, I founded the project space Andquestionmark together with Carsten Höller, for which we commission artists to create one-night events in the form of "unsaturated" artworks requiring the presence of the audience to be complete, for example a sound work by Christine Sun Kim and a performance by Pierre Bismuth.
Curator in Vienna
- Most recently I co-curated the 8th Momentum Nordic Biennial in Moss and edited the book "Life Itself" on the question of what life essentially is, with 173 texts from literature, philosophy, mathematics, biology, chemistry, and other disciplines together with Daniel Birnbaum, Carsten Höller, and Jo Widoff for the Moderna Museet in Stockholm. This year, I am curating the exhibition "Speed" at the Museum of Modern Art in Recife. And I am starting to work as curator for Thyssen-Bornemisza Art Contemporary (TBA21) in Vienna. With the exploratory fellowship programme "The Current", we will go on expeditions on a research vessel with artists and scientists to investigate human impact on the ocean and on climate change.
Last updated: November 8, 2017
Page editor: Joanna Bong Lindström
Source: Department of Culture and Aesthetics