Julia Lennartsson, class of '14
-Before I took the programme, I had a BA from Linköping University in Culture, Society and Media production. I have mostly worked with exhibition production at historical institutions, such as Stockholm City Museum where I produced the traveling exhibition Hitta Hem. The exhibition tapped into a debate regarding Swedish foster care, and it looked at the topic of foster children's rights and experiences both from a historical and contemporary perspective.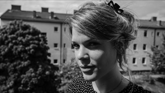 –My exam project was called A little less conversation and was based on the idea of "the ideology of a place". In the exhibition, I aimed to examine if the perception of a place can change in the meeting with a specific artwork. My thesis related to the political approach in the exhibition. It was an examination of New Public Management in cultural politics, specifically looking at if and how Kulturhuset Stadsteatern in Stockholm had changed when this method of organization was introduced.
–Since my graduation, I have been working with illustration at Illustratörcentrum for a while. At the moment I am also examining the possibilities to start a project together with an old classmate.
Last updated: November 8, 2017
Page editor: Karin Walford
Source: Department of Culture and Aesthetics