Heather Jones, class of '14
- I had already been working for several years in the arts in the US before applying to the Curatorial Master's program at SU. My entrance into curating was through studying fine arts.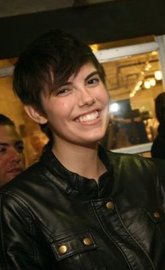 I had previously worked as a Master Apprentice for the Sol LeWitt studio, and as the studio manager for the artist Swoon in New York. After years of coordinating installations and exhibitions, I decided to study the theory and practice of curating with a more directed focus.
- For the final exhibition, it was very important to me to do a project outside of the university atmosphere. I partnered with a colleague in the program, Sally Müller, and together we co-curated an exhibition in a neighborhood on the outskirts of Stockholm. The exhibition was conceptually focused on human relations to the built environment, and it was crucial to us that the methodology and format of the exhibition fit the concept. We chose to hold the exhibition simultaneously at four separate, small art spaces around the neighborhood, and provided a map for visitors to follow, encouraging visitors to think about the ideas presented in the artworks while navigating the neighborhood for themselves.
Exhibitions Manager
- While still finalizing my master's thesis, I began working as the Exhibitions Coordinator at Independent Curators International (ICI) in New York. We organized 10-12 traveling exhibitions per year, and collaborated with hundreds of national and international art spaces.
- I am currently the Exhibitions Manager at Kunsthall Stavanger in Stavanger, Norway, where we have recently curated the first retrospective of the work of Judith Bernstein as well as published her first monographic catalogue, released this month with Mousse Publishing. The catalogue will be released in the US this September at the New Museum, New York. In addition to my work at the Kunsthall, I am a founder and co-editor of the online journal Contemporary Art Stavanger (CAS) which creates and highlights discourse around the arts in relation to the Stavanger region.
Last updated: November 8, 2017
Page editor: Karin Walford
Source: Department of Culture and Aesthetics