Anne Catrine Evenhaugen, class of '11
-When I started the Curating Art programme, I already had an undergraduate degree in art history (BA) and a Master's in library science (MLS) from the U.S. I had worked primarily in Washington D.C. area museums and libraries. To combine my interest in art and books, I wrote my Master's thesis in curating on the varying definitions and place of artists' books in museums and libraries.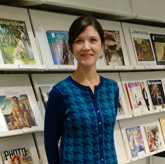 –I was lucky enough to get to curate my exhibition at Moderna Museet in Stockholm, in the Pontus Hultén Study Room. The show, Reading the Object, was open for 3 months and displayed more than 30 artworks from the Museum's permanent collection, including book works by Dieter Roth, Henri Matisse, Niki de Saint Phalle, Ed Ruscha and many others.
–After graduation I moved back to the Washington D.C. area and was hired just a few months after graduation to be the reference librarian for the Smithsonian's American Art and Portrait Gallery Library.
–After a few years, I was promoted to the head of the American Art and Portrait Gallery Library. This means that I manage the operations of a large art research library, overseeing acquisitions and projects to support the mission of the American Art Museum and National Portrait Gallery. We also have a sizable collection of amazing artists' books!
Last updated: November 8, 2017
Page editor: Joanna Bong Lindström
Source: Department of Culture and Aesthetics