Defibrillator at the Department
In the entranceway to the Department of Culture and Aesthetics at Frescativägen 24E, on the wall behind the red couches you will find an automated external defibrillator. When opening the door to the cabinet, an alert is sent to the staff of the section for safety and the security guard who is trained in CPR/AED.
Before you start CPR call 112 and send out a person to meet the ambulance.
What is a defibrillator?
The defibrillator has been available in the healthcare for a long time. The defibrillator provides spoken instructions to you, in Swedish, telling you how to perform cardiopulmonary resuscitation, CPR. The defibrillator analyzes the patient's heart rhythm and recommends if shock should be given or not. The defibrillator is intelligent and it will not give a shock to someone who doesn´t need it.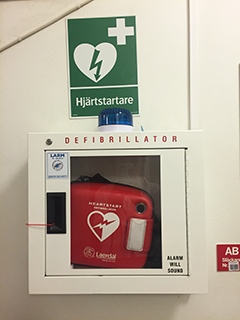 Everyone can use the defibrillator
There is an easy understandable instruction book in the defibrillator bag. There are no requirements for education, but it is a great advantage if you know CPR.
Courses on how to use the defibrillator
For those who wish, we have a much appreciated training on how to use the defibrillator and cardiopulmonary resuscitation. Training takes two and half hours and cost 375 SEK / person.
To sign up for training, contact jan.ekstrom@su.se, 08-16 35 45. After completing the training you will get the educational material "Mini Anne" and an instructional DVD.