International Master's Programme in Performance Studies, 120 credits
The International Master in Performance Studies is an innovative study programme aiming to provide students with excellent competences and skills for a profession in the performing arts and cultural field.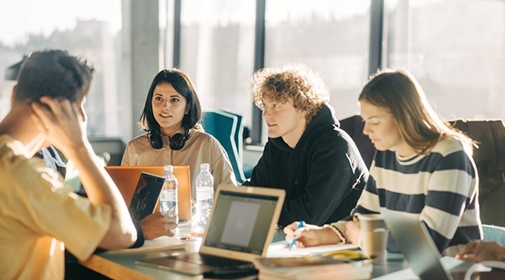 Q&A on the coronavirus for newly admitted students
Performing arts today operate more and more on a global and international level. Due to these developments professional fields related to theatre and performance are changing and require intercultural knowledge and specific skills to be able to cope with project related and curational challenges. At the same time the study program will expand the students' understanding of theatre and provide advanced theories and methods for the in-depth analysis of international contemporary and historical performance practices. A special emphasis is on dramaturgy and curational practices.
Internship part of the programme
In the centre of teaching methods and didactics is the concept of supervised project work (both in research and practice) demanding from the students to engage in autonomous and group steered activities to foster their independent thinking, self-organization skills, ethical responsibility and creativity. An internship at a theatre or cultural institution is part of the study programme.
The Master programme demands full time studies of four semesters (120 ECTS) and includes obligatory (60 ECTS) as well as eligible (30 ECTS) courses. One semester term consists normally for four courses of 7.5 ECTS. The Master thesis takes one semester term (30 ECTS).
All teaching is conducted through the medium of English.
Cooperation with the University of Amsterdam
We have a cooperation with the Department for Theatre Studies, Professional Master of International Dramaturgy (MID) at the University of Amsterdam. Master students can mutually go on study exchange for one semester.
The Course Programme of the International Master's Programme in Performance Studies (IMAPS) includes:
Cultural Theory and Transnational Performance
Curative Dramaturgy
Aesthetics and Historiography
Performativity, Gender and the Body on Stage
Performance Theories and Methodologies
Cultural Policy and Management
Dramaturgy and Performance Analysis
Performance, Activism and Social Movements
Advanced Research Methods in Performance Studies
Internship/Supervision Seminar
Project Days/Mini-Festival
Winter School
For more information and application, please visit the online course catalogue.
"There is plenty to learn"

Meet Brenda Amaru Ibarra Olguin who studies the International Master's Programme in Performance Studies. Read the interview with her.

Blogger Emma: "The programme is rigorous, stimulating and demanding in the best way"

Want to know what it's really like to be a student at Stockholm University? Follow Emma, student at our Master's Programme in Performance Studies, and learn more about student life in Sweden's capital city. The blog at Study in Sweden.