Through the Looking Glass
Exhibition about transition with artworks by Victoria Verseau, curated by Alba Baeza Martínez. Degree project within the programme Curating Art, at the Department of Culture and Aesthetics.
Exhibition dates: 9-17 December, 2016.
Opening Hours: Thu-Fri: 14.00-18.00. Sat: 13.00-17.00.
Place: hangmen Projects, Ringvägen 86, Stockholm.
The vernissage takes place on 9 December, 17-21 h.
There will be a finissage event on 17 December, 17-18 h. "The intimate is political. Shared strategies of representation" – a conversation with Eleonora Fors Szuba (The Unstraight Museum, chairperson of the board), Victoria Verseau (artist) and Alba Baeza (curator).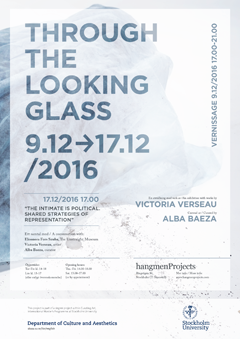 About the exhibition
The exhibition "Through the Looking Glass" presents works by Victoria Verseau at hangmenProjects for the first time. For this site-specific project, the artist's studio is recreated in the exhibition space, together with a selection of artworks.
About the artist
Victoria Verseau works in a variety of media – including film, photography, sculpture and installation – through which she explores the mechanisms of gender construction and questions the limits between public exposure and private experience.
Focusing on Verseau's own background as transgender, the curator and the artist have engaged in a dialogue around the process of transition, with the aim of raising awareness and opening a discussion about the challenges it presents.