The Specific Emotional: Between the Repetition and the Event
Art exhibition at Liljevalchs Hub, curated by Aleksei Borisionok as a degree project within the International Master programme Curating Art, at the Department of Culture and Aesthetics.
The opening takes place on 1 December, at 6.00 PM. There will be a reading by Frida Sandström and a performance by Olia Sosnovskaya.
On 15 December, at 7.00 PM, there will be a screening of films by Kristina Norman, Mykola Ridnyi and artist talk with Mykola Ridnyi.
Admission is free. The exhibition can be visited between 1st and 15th of December on request, a.borisionok@gmail.com.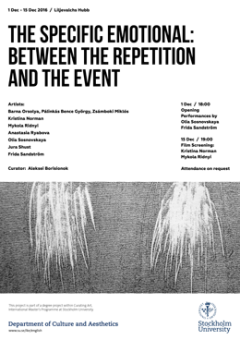 Artists
Barna Orsolya, Pálinkás Bence György, Zsámboki Miklós; Kristina Norman, Mykola Ridnyi, Anastasia Ryabova, Olia Sosnovskaya, Jura Shust, Frida Sandström.
The concept of repetition structures everyday life, producing a matrix which organises, governs and stabilises. At the same time, repetition can induce an event in itself. According to Marxist analysis, festivity and celebration serve a technical role of maintaining stability and balance, thus pairing the idea of recurrence with stillness. It is an automatism of a certain kind in which the celebration becomes an effective means to channel and control ideas and practices dangerous for bourgeois society, ruling class, and power. At the same time, the affective power of festival and holiday could serve the opposite role of intensifying solidarity, emancipating from alienation and proliferating struggle in the times of revolutions and protests. That's why understanding of the festivity is twofold. But what constitutes its repetition, connection to revolution and the singularity?
"The Specific emotional" is a term used in Soviet and post-Soviet discourse to describe the affective spaces of the holiday. A mass celebration, a civil ritual and a collective body must be arranged in such a way that it triggers specific emotions. The holidays can be described by the term 'social choreography', specific, temporal and spatial configuration of bodies and objects with their rhythm and movement (G. Klein). Demonstrations, carnivals, laying flowers, discoteques, military parades, processions, street fighting, inaugurations… The Specific Emotional investigates the following questions: What are festivities and festive spaces signifying? What makes spaces ideologically charged and festive? Which relations are penetrating bodies, objects and materialities in a festive space? How are festive spaces governed? Do they create a space of disobedience and transgression? What role do scripts and protocols play in the structuring of festive experience?
The project is a part of long-term inquiry into the issues of festive spaces, rituals, social choreography, collective memory and mass celebrations. The first chapter "The Emotional-Specific": Between the Monument and the Ritual" was presented in KH Space in Brest, Belarus in September 2016.