Rethinking Flânerie - Artist presentation and Audio-walk
Artist presentation and talk at ABF-huset 18 November, audiowalk in Rålambshovsparken 19 November. The events are part of the master's degree of Elena Jarl and Iliane Kiefer, at the Curating Art program at the Department of Culture and Aesthetics.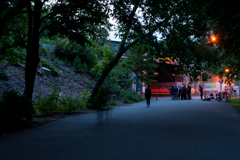 Artist presentation and talk
Place: ABF-huset, Sveavägen 41, 111 83 Stockholm (Subway: Rådmansgatan or Hötorget)
Date: 18 November 2016
Time: 18:00-19:00.
Further details: Free admission/in English.
Organisers: Elena Jarl and Iliane Kiefer.
Public information URL:
www.abfstockholm.se/kalendarium/
www.gap-art.org
www.facebook.com/GapArtPlatform
About the artists
The artists and researchers Johanna Steindorf and Nisrine Boukhari use walking in their artistic practices to raise questions about gender, migration, home and exile. By reusing, rejecting and adapting features from the well-known concept of the flâneur, flânerie has developed into a set of artistic approaches which address personal conflicts and social inequalities.
For Johanna Steindorf the audio-walk is used as an artistic strategy to acknowledge the situation for women in public space. Her strive to improve their positions can also be seen in other works related to the female flâneur, the flâneuse. At this event her presentation will give more insight to her practice.
Nisrine Boukhari used to see herself as a flâneur when she explored the streets in Damascus. After being forced to move due to the political conflicts in Syria, she developed the concept of "Wanderism is a state of mind". As a wanderer she is referring to both the physical and mental movement, where memories and new impressions affect a perception of self and place. Her research is influenced by psychogeography and has become a strategy to handle the consequences of constantly being on the move.
After the presentation both artists will participate in a discussion round to talk about their relation to flânerie and wanderism .
Art exhibition 14-18 December
The event is an introduction to the upcoming art exhibition "Rethinking Flânerie" presented at Marabouparken, 14-18 December 2016, with the participating artists Nisrine Boukhari, Santiago Mostyn and Johanna Steindorf. Curated by Elena Jarl and Iliane Kiefer.
The talk at ABF-huset will be accompanied with Johanna Steindorf's audio-walk "The Strange Half-Absence of Wandering at Night" in Rålambshovsparken. In this audio-walk, participants accompany a female protagonist through Rålambshovsparken at dusk. The walk reflects upon the female flâneur, flâneuse, and the situation for women in public space. It mixes narrative, text excerpts, music and field recordings. The sun sets while the participant walks, bringing out other qualities of this environment.
Audio-walk
Place: Rålambshovsparken (Subway: Thorildsplan, exit Rålambshovsparken)
Date: 19 November 2016
Time: 15:00 (Duration approx. 40 min.)
Register: RVSP via email info@gap-art.org, before the 19 November 2016 (max. 30 participants).
Further details: Free admission/in English/age +18.
Please bring your own mobile device/mp3 player and headphones. A download link to the mp3 file will be provided when registered. Hot beverage will be provided, the walk will take place in all weathers, so please dress warm.
More info: www.facebook.com/GapArtPlatform