Curating Art: Objects Through Time
EVENT
Date:
27 November 2019, 6.00 PM
-
27 November 2019, 8.00 PM
Venue:
Accelerator, Frescativägen 24 B, Stockholm University
Objects Through Time is a collaboration between the exhibition space Accelerator and the International Master's Programme in Curating Art at the Department of Culture and Aesthetics at Stockholm University.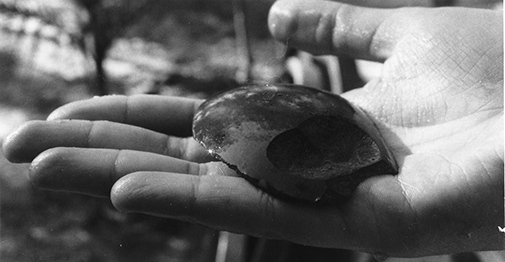 Accelerator has a collaboration with the International Master's Programme in Curating Art at Stockholm University. The students create events in connection to themes that Accelerator wishes to highlight in the exhibition programme. Curators for Curating Art's fourth event is Onur Çimen, Ellen Klintenberg Gedda and Yuying Hu. They will present an evening that focuses on historical material and cultural heritage in connection to Cyprien Gaillard's exhibition.
In his exhibition Overburden, Cyprien Gaillard critically addresses concepts of decay, renewal and reconstruction – bringing forth questions concerning the presence and certain usagesof historical objects in current times. In relation to Gaillard's exhibition, artist Burçak Bingöl and Associate Professor in Archaeology Anna Källén will have a conversation about cultural heritage and the temporal qualities of historical matter. The talk will revolve around current roles and conditions of objects of the past in today's society – especially in contemporary artistic practices. What stories and perspectives become invisible when we address historical objects from a contemporary point of view – and what layers of interpretation are added?
About Burçak Bingöl
Artist Burçak Bingöl is based in Turkey and explores notions of belonging, cultural heritage, identity, decoration and failure. Working with various mediums such as ceramics, drawing, video and installation, Bingöl's works can be seen as psychological landscapes that hover between abstraction and representation, rejection and preservation – both embracing and disregarding Eastern and Western traditions. Bingöl is one of the current residencies of IASPIS.
About Anna Källén
Anna Källén is an Associate Professor in Archeology at the Department of Culture and Aesthetics at Stockholm University. Her research focuses on the contemporary usage of archaeological sites, objects and narratives – mainly in Europe and Southeast Asia.
Please register
The event is free, but capacity is limited. Register at internaccelerator@su.se before November 26.
The talk will be held in English.
Credits:
Onur Çimen, Curator
Ellen Klintenberg Gedda and Yuying Hu, Co-Curators
Burçak Bingöl, Artist
Anna Källén, Associate Professor in Archeology