Curating Art at Accelerator: This is Survival
EVENT
Date:
09 October 2019, 6.30 PM
-
09 October 2019, 8.00 PM
Venue:
Accelerator, Frescativägen 24 B, Stockholm University
This is Survival is a collaboration between the exhibition space Accelerator and the International Master's Programme in Curating Art at the Department of Culture and Aesthetics at Stockholm University.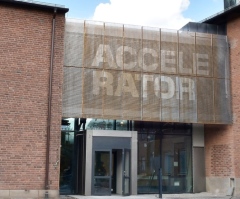 Accelerator has a collaboration with the International Master's Programme in Curating Art at Stockholm University. The students create events in connection to themes that Accelerator wishes to highlight in the exhibition programme. Curator for Curating Art's second event is Federica Brigo. As sustainability is a key aspect to Tino Sehgal's practice, she has chosen to curate an evening that revolves around environmental issues in connection to both artistic and scientific practices.
The evening will consist of a talk between artist Madeleine Andersson and Professor Matthew MacLeod from the Department of Environmental Science at Stockholm University, moderated by Federica Brigo. The talk will address the implications of climate change from two differing, but equally indispensable perspectives; the artistic and the scientific, followed by a screening of Andersson's video work We're All Motherfuckers (2018, 40:16 min).
Madeleine Andersson, who graduated with a BFA from Konstfack in 2019, works mainly with moving images in ways that are deliberately direct, dramatic and self-oriented. In We're All Motherfuckers, Andersson experiments with different ways of embodying climate change – as plastic pollution or global warming – intertwined with personal monologues. Environmental activism and its standards of rhetoric is critically investigated and staged, as highlighted by the video's multiple editing cuts. Through language puns, humor and expressivity, she emphasizes the acute impacts of climate change as a global threat.
Professor Matthew MacLeod is an environmental chemist whose research revolves around the processes and dynamics of environmental pollutants. He is focused on the fate, exposure and effects of persistent organic pollutants and the environmental impacts of micro- and macro plastics.
Please register
The event is free, but capacity is limited. Register at internaccelerator@su.se by October 8th.
Credits:
Federica Brigo, curator
Madeleine Andersson, artist
Matthew MacLeod, professor at the Department of Environmental Science at Stockholm University