Codified Environments: Renderings of Public Space
Degree project within the programme Curating Art, at the Department of Culture and Aesthetics. It is open for everyone.
Johanna Gustafsson Fürst and Lucia Pagano in experimental three-day exhibition at Färgfabriken.
The exhibition is curated by Jasmine Hinks, as a part of a degree project within Curating Art, International Master's Programme, at the Department of Culture and Aesthetics.
The vernissage takes place on Monday November 14 at 5.30-8.00 PM. Artists' and Curator talk at 6.30, PM.
The exhibition is open on Tuesday November 15, 10 AM-2 PM, and on Wednesday November 16, 10 AM-4 PM.
Entrance is free, no need to RSVP.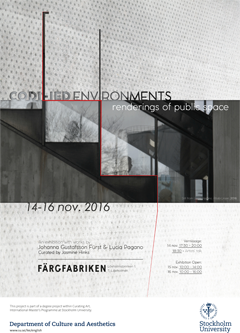 About the exhibition
"Codified Environments" takes its departure point from reflections on the public spaces of Stockholm. The project draws connections between the broader contemporary debate on public, democratic space, and the specific artistic strategies of Gustafsson Fürst and Pagano, who both engage with notions of public in their practices.
"Codified Environments" presents Lucia Pagano's 2016 experimental documentary short film "Röda Linjen", filmed along the metro line from Ropsten to Norsborg. Gustafsson Fürst has created a new work for this exhibition – a spatial installation which responds to Pagano's film, intervening physically and visually with the audience's experience.
The artists
Johanna Gustafsson Fürst (*1973, lives and works in Stockholm).
Gustafsson Fürst's practice operates in a field between self-organized platforms, performances, text, sculptures and site-specific installations. Gustafsson Fürst is currently commissioned by "Konst Händer", an intitiative of Statens Konstråd.
www.gustafssonfurst.se
Lucia Pagano (*1984, lives and works in Stockholm).
Pagano is an artist/filmmaker working with experimental fiction and documentary shorts, video and photography installations. Pagano studied at the National Film School in Lodz, Poland, and
in Stockholm at both the Royal Institute of Art and at Konstfack.
www.luciapagano.com
About the curator
Jasmine Hinks (*1989) is a British curator based in Stockholm, where she is a candidate of the International Master Programme in Curating Art at Stockholm University.
Hinks' current research focuses on public space and experimental approaches to presenting contemporary art. In her practice she is interested in 'found spaces', the unprogrammed urban gaps in cities, and audience interaction. Hinks has experience working alongside artists in selforganised platforms back in her native Scotland.