Att uppleva konst hemifrån - Sara Nielsen Bonde
EVENT
Date:
11 June 2020, 1.00 PM
-
11 June 2020, 6.00 PM
Venue:
Ekholmsnäs, Lidingö
Welcome to an online exhibition 7-16 June. Curated by Silvia Thomackenstein as part of a degree project within Curating Art, International Master's Programme at Stockholm University.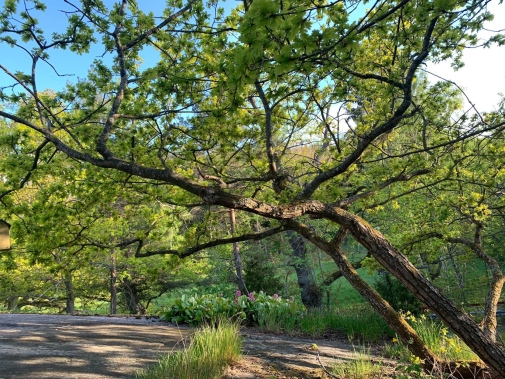 The exhibition is open on weekends from 12pm to 5pm and during the week from 1pm to 6pm.
Home is the place where we feel safe, spend time with our loved ones, and refuel our energy.
How does our perception of home change, when we are now asked to spend more time in our own space?
We visit art institutions, go to galleries, travel for exhibitions, and meet like-minded people who share a passion for art and exhibitions.
How does our perception of art change when we are now asked to refrain from visiting exhibitions?
Art brings us together, helps us exchanging ideas, and addresses the needs and circumstances of our society and the world.
How does our perception of both, art and home, change when we exhibit art at home, live with it for a while, and open our home to visitors?
In the exhibition Att uppleva konst hemifrån, curator Silvia Thomackenstein asks herself these questions and exhibits the works of artist Sara Nielsen Bonde in her private garden. In these tricky times, she wants to make a physical visit to an exhibition possible and therefore works site-specific allowing the visitor to perceive art in the curator's home.
Bonde plays with the interpretation and perspectives of different materials and our expectations of them in her mostly sculptural work. She is interested in the perception of trees, wood, bark, in particular, as something living and decaying. For her, the exhibition project is an opportunity to position the works in an outdoor environment.
About the artist
Sara Nielsen Bonde (b. 1992 Denmark) graduated from the Royal Institute of Art in Stockholm in 2019. In the same year she received the Fredrik Roos Art Grant and exhibited at the konsthall Artipelag in the Stockholm archipelago. Today, the artist lives and works in Gothenburg.
How to participate
In order to protect the curator's private sphere and thus remain true to the curatorial concept, you are asked to send a short message to +46 76 911 24 27 about your intention to visit the exhibition. You will receive a confirmation and the exact address in reply. This also guarantees that the recommended minimum distance to residents and other visitors can be maintained. The private garden can be entered without any interaction with the residents of the house, but the curator will, of course, be there and will be happy to engage in dialogue.
Live-event on June 11
As part of the exhibition, the host will broadcast a live-event on June 11, 18:30. In order to spark a conversation about wood, curator Silvia Thomackenstein invites you to a round table talk as part of the exhibition, where different perspectives on wood meet, overlap and complement each other - which can create a completely new view of wood. You are invited to experience how complex the material wood can be – or become, how detailed you can work with it, how you can change its structure or even how to draw inspiration from it. The guests of this talk are Andreas Nobel (Interior designer), Céline Montanari (scientist), Max Jacob Falk (cabinetmaker) and Sara Nielsen Bonde (artist).
You can find the link and further information on thomackenstein.com.