七: 7 Small Houses
Art exhibition curated by Linnea U. Nilsson, as a degree project within the International Master programme Curating Art, at the Department of Culture and Aesthetics.
Open to the public 29 November-2 December, 2016.
Hours: 12.00-16.00.
Free admission.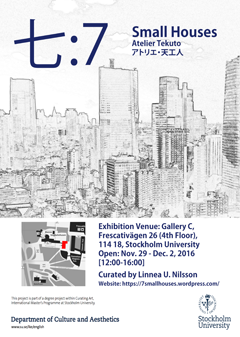 七: 7 Small Houses is an exhibition with representations of seven kyosho jutaku, micro homes, by award-winning, Tokyo-based architect Yasuhiro Yamashita and his Atelier Tekuto. Yasuhiro Yamashita is one of Japan's more influential architects, always in pursuit of innovative technology, new natural and sustainable materials and solutions.
How to design when there seems to be hardly any land left to build on? This exhibition presents inspiration and innovative solutions when it comes to building on unconventional plots of land.
Linnea U. Nilsson Curator
Linnea U. Nilsson holds a BA in Art History and Business studies from Uppsala University, and a Foundation Diploma and a BA from Central Saint Martins (CSM), London. During her time in London she worked at the Fashion and Textile Museum. Previous studies include art, art history, communication, curation, design, fashion, film, and photography. Having lived in Bangkok, Tokyo, Beijing and London, Linnea now divides her time between Stockholm and Tokyo.
Most recently, Linnea curated Tagore & Ray (2016) for Millesgården, presenting two of India's iconic storytellers. She also assisted on Josef Frank Mönster – Möbler – Måleri (2016).