Stockholm University welcomes 900 theatre scholars from around the world
Between 13 and 17 June, the Theatre and Performance Studies section at the Department of Culture and Aesthetics will host the world's largest theatre research conference to date.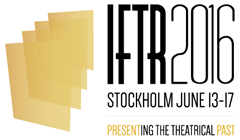 The International Federation for Theatre Research (IFTR) is the world's largest theatre research federation with members in all continents. The IFTR Conference is an annual event, last year organized in Hyderabad, India, and with next year's host city being São Paolo, Brazil.
The theme for this year's conference is "Presenting the Theatrical Past. Interplays of Artefacts, Discources and Practices", including historiography, broad perspectives on theatre history and the 250th anniversary of the Drottningholm Court Theatre, a Swedish UNESCO World Heritage site. The Conference will also be an opportunity for the 23 IFTR working groups to meet and further develop their work within specific research areas such as Feminist Research, Political Performances, Asian Theatre and Performance and Disability.
Erik Mattsson, IFTR 2016 Conference Coordinator at the Department of Culture and Aesthetics: "With this conference, we would like to get back to fundamental issues regarding the past and the present. First of all, why do we even dedicate time to researching the history of theatre? What part does history play to theatre and to Theatre Studies? To what extent is researching our past also an exploration of researching our present?"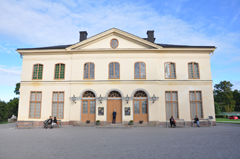 Apart from the close to 850 research presentations, the five conference days include keynote lectures, the above mentioned Working Group sessions and excursions to Drottningholm, Gripsholm, Ulriksdal, Kymmendö and Uppsala.
Broadcasted keynotes
Our Keynote Speakers will offer four different perspectives on theatre history:
Monday 13 June: "The Museum in Transition - How Do Performing Artists Affect Historiography?"
Gabriele Brandstetter, Professor of Theatre and Dance Studies at Freie Universität of Berlin, Germany, is one of the leading scholars in the field of dance research. Ms Brandstetter's keynote lecture will discuss dance and the museum.
Wednesday 15 June: "Presenting the Theatre of Drottningholm"
David Wiles, Professor of Drama at the University of Exeter, UK, is one of the world's leading theatre historians and an expert of the Drottningholm Court Theatre.
Thursday 16 June: "Ārai-te-uru: 'Through the Veil' - Traditional Māori Storytelling and Transformation" Te Ahukaramū Charles Royal, Indigenous Arts Organiser at the Te Papa Museum of Wellington, New Zealand, will offer a Maori perspective on storytelling and writing history.
Friday 17 June: "History as a Work"
Dorthe Jørgensen, Professor in Philosophy and the History of Ideas at the University of Aarhus University, Denmark, will discuss the connection between philosophy and historiography.
The Monday, Thursday and Friday keynote lectures will be broadcasted live on su.se/play. The Wednesday keynote lecture will be recorded and accessible for streaming after the event.
More information about the keynotes on the Conference website here.
IFTR 2016 in numbers
838 research presentations
23 working groups
4 keynote lectures
57 countries represented
40 members on the organizing team