Special issue of Nordic Theatre Studies
Erik Mattsson, scholar in Theatre studies, is the editor of a special issue of the academic journal Nordic Theatre Studies (vol 29 nr 1, 2017). Lena Hammergren, Rikard Hoogland, Hélène Ohlsson and Willmar Sauter, scholars at the Department of Culture and Aesthetics, are all among the writers.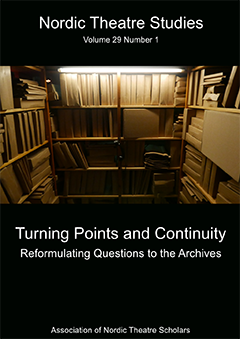 Under the title Turning Points and Continuity: Reformulating Questions to the Archives, this special issue of Nordic Theatre Studies gathers articles emanating from a joint research project – as well as articles by invited guest writers – all dealing with the period 1880-1925.
The project, and consequently also this collection of articles, centres on the twofold task of re-examining the period of the so-called modern breakthrough in performing arts and to rethink the historiographical approach, thereby adding to the theoretical and methodological toolbox of historical research.