New book by Dirk Gindt
Dirk Gindt, Associate Professor in Theatre Studies, has just published the volume "Viral Dramaturgies: HIV and AIDS in Performance in the Twenty-First Century" (Palgrave Macmillan 2018), co-edited with Alyson Campbell (University of Melbourne).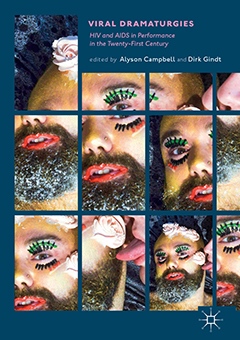 The book analyses the impact of HIV and AIDS on performance in the twenty-first century from an international perspective. It marks a necessary reaffirmation of the productive power of performance to respond to a public and political health crisis and act as a mode of resistance to cultural amnesia, discrimination and stigmatisation.
Challenges and contexts
It sets out a number of challenges and contexts for HIV and AIDS performance in the twenty-first century, including: the financial interests of the pharmaceutical industry; the unequal access to treatment and prevention technologies in the Global North and Global South; the problematic division between dominant (white, gay, urban, cis-male) and marginalised narratives of HIV; the tension between a damaging cultural amnesia and a potentially equally damaging partner 'AIDS nostalgia'; the criminalisation of HIV non-disclosure; and, sustaining and sustained by all of these, the ongoing stigmatisation of people living with HIV. This collection presents work from a vast range of contexts, grouped around four main areas: women's voices and experiences; generations, memories and temporalities; inter/national narratives; and artistic and personal reflections and interventions.