In memory of Sara Danius
It is with great sadness that we received the news of the passing of our colleague Sara Danius.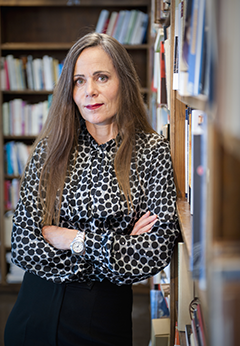 The loss to the cultural life of Sweden, and to the Department of Culture and Aesthetics, where Sara was professor of literature since 2013, is great.
Sara's scholarly contributions to her field can hardly be overrated. In an outstanding manner, she succeeded in bringing literature into living contact with society, both in her research on Flaubert, Proust and Joyce, as well as to a wider public in her essays such as Den blå tvålen. Romanen och konsten att göra saker och ting synliga (2013). Sara's articles and essays – on a wide spectrum of writers and subjects, from a popular cookbook to meditations on one of her memorable Nobel evening dresses – have also touched us. Our thoughts are with Sara's family at this sad time.