This was the silence I wanted to break in you
EVENT
Date:
18 January 2019, 5.00 PM
-
18 January 2019, 8.00 PM
Venue:
The Library, 300, Manne Siegbahn Building, Frescativägen 24E
Welcome to a Performance and Video Art exhibition, a project by students from the International Master's Programme in Performance Studies, at the Department of Culture and Aesthetics.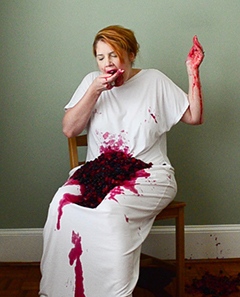 With our project "This was the silence I wanted to break in you" we want to explore how performance could function as a tool for the communication of those subjects, affects and experiences that are left out of social and/or political conversation. How silence works both as a marginalizing strategy of subjection but also as a potential subversive tool. We have invited artists from different national and international locations who work within the fields of performance and video art to interpret the meaning, function and/or obstacles that silence poses in and/or to their work and expressions. Within this broad spectrum, their artistic expressions expand creatively and freely.
Our project has been developed over the last two terms in the course "Curatorial Dramaturgy" within the frame of the International MA Performance Studies.
We invite you as an audience to participate in our performance program to explore the dynamics of silence with us. We hope to establish an interdisciplinary conversation where theory meets practice. Please feel free to join our artist talk at the end of the evening.
Curatorial Dramaturgy:
Maja Melsted, Brenda Amaru Ibarra Olguìn, Anette Vogel
Supervision:
Meike Wagner
Artistic Contributions:
Isabella Draghici, Excerpts from Silence (The Hands, The Mask, The Field Poppy), (Performance)
Michael Cedlind, Camera Obscura (Performance)
Heather Sincavage, To have and to hold (Performance)
Simone Kuhs, Things that don't exist and things that has not happened (l),(ll),(ll) (Video)
Annette Arlander, At Dusk (Video)
Maria Bergström, Returning Swede (Video)
Nina Fountedakis, CONNECT (Video)