Stranded encyclopedias: encyclopedic dreams and practices, c. 1700–2000
EVENT
Date:
14 September 2018, 10.00 AM
-
14 September 2018, 4.00 PM
Venue:
Geo-Science Building (Geovetarhuset), Svante Arrhenius väg 8–12, Stockholm University
Welcome to an open international symposium on abandoned encyclopedias with presentations by fifteen scholars from several disciplines and countries. Free admission.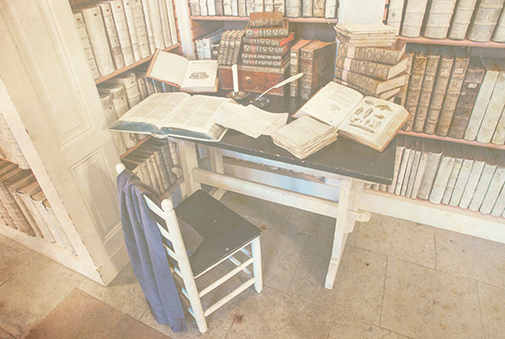 The impulse to collect and order human knowledge may be as old as writing itself. Encyclopedias – in all their shapes and sizes – are some of the strongest expressions of this desire. Yet, dreams of complete knowledge have rarely been easily achieved. Throughout centuries, people have tried and failed.
Stranded encyclopedias is the first international symposium devoted to abandoned encyclopedic works, their forgotten production histories and compilers. During two days, fifteen scholars from eight countries present cases from a three-hundred-year period. Together they give insights into the varieties, motivations, changes, and global diffusion of alphabetical encyclopedic practice, as well as the continuous development of our modern knowledge society.
If published encyclopedias are the top of an iceberg, how large is the body below the surface, and what – and who – will we find there?
The symposium is a collaboration between Stockholm University (Department of Culture and Aesthetics) and Aalborg University (Department of Culture and Global Studies), funded by the Swedish Foundation for Humanities and the Social Sciences (Riksbankens Jubileumsfond).
Programme
Thursday, 13 September
Venue: Geo-Science Building, Svante Arrhenius väg 8–12, Frescati
Room: Y 23
09:30–10:00

Registration

Coffee and refreshments
For all present

10:00–10:10

Welcome and information

Linn Holmberg and Maria Simonsen

10:10–10:25

Introduction and rationale of the Symposium

Linn Holmberg

10:30–12:30

Session 1. Stranded encyclopedias in eighteenth-century France

Chair: Lynda Mugglestone (University of Oxford, UK).

Annelie Grosse (Berlin-Brandenburg Academy of Science and Humanities, Germany)
'Christian philosophy in the Enlightenment's flagship encyclopedia: Jean Henri Samuel Formey's unfinished philosophical encyclopedia (1742–1747) as a source of the Encyclopédie'
Hans-Jürgen Lüsebrink (Saarland University, Germany)
'Reinventing economic encyclopedias: Abbé Morellet's ambitious projet of a Nouveau Dictionnaire de commerce (1769) and its (provisional) failure'
David Eick (Grand Valley State University, USA)
'Stranded dictionaries during the French Revolution'
Lisanne Jansen (Leiden University, Netherlands)
'From Abécédaire to Aval via Absalon: Mme de Genlis' unfinished encyclopedia'

12:30
Lunch

Presenters and invited guests

14:00–15:30

Session 2. Stranded encyclopedias across the globe

Chair: Hans-Jürgen Lüsebrink (Saarland University, Germany)

Clorinda Donato (California State University, USA)
'Stranded geographies: Italy for Italians in the Dizionario di geografia moderna composto per l'Enciclopedica metodica (1797)'
Linn Holmberg (Stockholm University, Sweden)
'Stranded encyclopedias in eighteenth-century Scandinavia'
Ana Maria Alfonso-Goldfarb, Marcia H M Ferraz & Elaine de Souza (co-author: Silvia Waisse) (Pontifical Catholic University of São Paulo, Brazil)
'Stranded Brazilian encyclopedias: a late affair'
Poster: Bertha M. Gutiérrez Rodilla (University of Salamanca, Spain) and Carmen Quijada Diez (University of Oviedo, Spain).
'Stranded encyclopedic medical dictionaries in eighteenth- and nineteenth-century Spain'

15:30–16:30
Coffee and refreshments
For all present
18:00

Symposium dinner
Presenters and invited guests
Friday, 14 September
Venue: Geo-Science Building, Svante Arrhenius väg 8–12, Frescati
Room: U 28
#strandedencyclopedias2018
Contact the organizers
Linn Holmberg, PhD
Researcher and teacher in History of Science and Ideas
Department of Culture and Aesthetics, Stockholm University, Sweden
linn.holmberg@idehist.su.se
Maria Simonsen, PhD
Assistant professor in History
Department of Culture and Global Studies, Aalborg University, Denmark
simonsen@cgs.aau.dk