Pre-Launch: Letters to Process
EVENT
Date:
06 June 2020, 12.00 PM
-
06 June 2020, 4.00 PM
In the anthology Letters to Process master's student Anne Vigeland collects artists' writings on the topics of work and process. The publication is part of a degree project within Curating Art, International Master's Programme at the Department of Culture and Aesthetics, Stockholm University.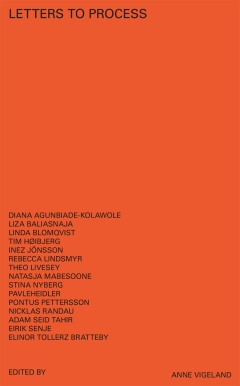 The book gathers personal thoughts and reflections from 15 artists working within a broad array of practices, with the aim of expanding public perceptions of what comprises artistic work – from an open, speculative and affective viewpoint.
Pre-launched June 6
A public launch event has been postponed to the autumn, 2020, but Letters to Process will be pre-launched on June 6, 2020. It will then be possible to acquire a free copy at Index – The Swedish Contemporary Art Foundation (Stockholm) during their regular opening hours, or to place a postal order by sending an email to: letterstoprocess@gmail.com (the book is free, but you will be asked to reimburse the postal costs).
The catalyst behind Letters to Process is a solo piece by dancer and choreographer Linda Blomqvist titled Selma (2019). During the process of creating the piece, Linda wrote numerous letters to and for Selma, as if Selma was a subject – a fictive someone to lean on, dance with and write to. The collection of letters Linda wrote during the process mirror the emotional bond that arose and developed between the artist and her work over time.
In Letters to Process, Linda and Selma are in the company of 14 other artists who have been invited to engage in a similiar writing practice. They have written letters to artistic processes of their own, and treated those processes as subjects. Collectively, the letters make up a diverse archive of observations and meditations on practice and process; unravelling the relational and affective commitments that constitute artistic work.
Participating artists
Diana Agunbiade-Kolawole
Liza Baliasnaja
Linda Blomqvist
Tim Høibjerg
Inez Jönsson
Rebecca Lindsmyr
Theo Livesey
Natasja Mabesoone
Stina Nyberg
pavleheidler
Pontus Pettersson
Nicklas Randau
Adam Seid Tahir
Eirik Senje
Elinor Tollerz Bratteby
Curator/Editor
Anne Vigeland
Graphic Design
Abudi Alsaleh
Project Supervisor
Anna Efraimsson