Overflow - Art Exhibiton
EVENT
Date:
24 September 2020, 2.00 PM
-
27 September 2020, 8.00 PM
Venue:
Lappkärrsberget
Welcome to a four-day art exhibition showcasing the works of artists Jo Andersson, Sissela Jensen and Alexey Layfurov. Curated by Agnès Biro and Sarah Rodrigues, students at the International Master's Programme in Curating at the Department of Culture and Aesthetics at Stockholm University. 24-27 September.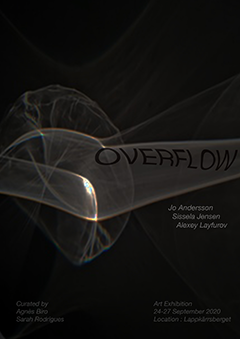 In this year 2020, we have been a part of a worldwide pandemic which has brought most of us under forced isolation.
We are still experiencing the effects of this unprecedented global phenomenon and the resulting destabilization.
In this exhibition, we invite you to explore this state of imposed introspection and to look within (some)one's intimate spaces.
Due to Covid-19 and for curatorial choices, only groups of 4 people will be allowed per 20 min slot. Make sure you register by following the link below!
https://www.eventbrite.co.uk/e/overflow-24-27-september-2020-registration-121327777649?fbclid=IwAR14FSFUKqUsXXxfn80g6vFeO2e4leiBNI2LeF7ZscpbNd3tiLgD-0kee7M
Artists
Sissela Jensen
I aim to make striking images that balance the very familiar with the alien and the mundane with the extraordinary. With a strong interest for human perception I explore the limit for visual information and want to recreate my own fascination for the world.
Sissela Jensen born 1988, recently graduated from Master programme in Visual Communication at Konstfack.
@sisselajensen
Jo Andersson
I am interested in energy and its various forms, particularly light. Using glass as my main material of exploration I experiment with creating environments which help to bring the viewer to the present moment.
I received my Masters in Ceramics and Glass from Konstfack in Stockholm, Sweden in June of 2020. I am currently located in Stockholm.
@jojosunbear
Alexey Layfurov
I am working on the intersection between film and graphic design. By balancing between these two disciplines I am trying to address such gigantic concepts as globalisation and make an attempt to visualise them. I am mainly focused on the visual dramaturgy of an image.
I recently graduated from the MFA program in visual communication at Konstfack and I am currently based in Stockholm.
@Layfurov
Curators
Agnès Biro
Agnès Biro is a freelance curator and a Master student in Curating Arts at Stockholm University. While following a Bachelor's degree in Fine Art, she gained interest in challenging the relation between audiences and time. Her curatorial practice explores interruption as a way to influence the visitor's experience.
Sarah Rodrigues
Sarah Rodrigues is a freelance curator and is currently pursuing the Curating Arts Master's program at Stockholm University. With a background in Environmental Studies, Anthropology, and Philosophy, she is interested in the intersection of arts, sciences and research with regards to understanding the Self and the Environment.