International conference: Reframing Heritage as Movement
EVENT
Date:
26 September 2016, 9.00 AM
-
26 September 2016, 5.00 PM
Venue:
The Auditorium, the Department of Culture and Aesthetics
An international conference, Reframing Heritage as Movement, will take place at Stockholm University in September 2016, gathering researchers, professionals and students within the research area of critical heritage studies. The first day of the conference, September 26th, is an open day and will take place at the Department of Culture and Aesthetics. Register below!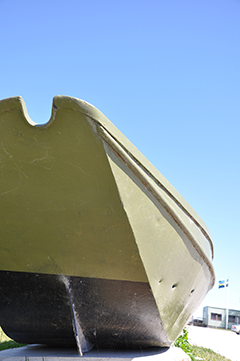 Recent political developments in the world call for new conceptualizations of cultural heritage. A dramatic increase in the mobility of people and heritage objects across Europe and around the world has revealed gaps, flaws and insufficiencies in a view of heritage as stable, homogenous, and site-bound. New conceptions of heritage are called for, conceptions which can accommodate diversity, transnational identities, and refugee experiences.
The Swedish Ministry of Culture is soon proposing a new 'inclusive' heritage politics with 'room for different perspectives on history', based on the premise that 'our common heritage is in constant movement and is shaped by people together'. But to what extent is this view compatible with the existing national and international institutions, structures and regulations for heritage management and heritage consumption? How deep goes the traditional static, site- and nation-bound concept of heritage? How are ideas of stability and homogeneity manifested in common conceptions of heritage? What changes are required to instead privilege movement, diversity, and sharing? Could a reframing of heritage as movement break up ideas of essential bounded cultural units, and allow heritage to be a vehicle for intercultural respect and tolerance?
With examples and experiences from across the world, six leading heritage scholars explore how Critical Heritage Studies can provide a wider framework and deeper analysis of the possibility to reframe heritage as movement. The first day of the conference, 26 Sept, is open for researchers, students, and professionals interested in issues of heritage as movement, with an expected number of around 100 participants. In combination with the international group, there is an internal and interdisciplinary reference group of scholars from within Stockholms University supporting the conference.
Programme
8.15-09.00
Registration
09.00-09.15
Welcome address: Anna Källén
09.15-10.00
Lecture: Helaine Silverman
10.00-10.30
Coffee
10.30-11.15
Lecture: Ali Mozaffari
11.15-12.00
Lecture: Jiat Hwee Chang
12.00-13.00
Lunch
13.00-13.45
Lecture: Siân Jones
13.45-14.30
Lecture: Valdimar Tr. Hafstein
14.30-15.00
Coffee
15.00-15.45
Lecture: Tim Winter
15.45-17.00
Panel discussion: Reframing Heritage as Movement
The speakers of the open day (26 Sept), and the titles of the presentations, are:
Please click on the links below to read the abstracts.
New registrations will be put on a waiting list
Do you want to join the conference on the day of open lectures? Please register with Ida Hughes Tidlund, coordinator, at chsn@erg.su.se. Please note: Due to high interest, all new registrations will be put on a waiting list. Email Ida Hughes Tidlund for questions or more information.
For questions regarding program and contents, please contact the conference chair Anna Källén, at anna.kallen@ark.su.se.