Hyper-terrestrial: an exhibition and a gathering in the forest
EVENT
Date:
01 June 2019, 1.00 PM
-
01 June 2019, 6.00 PM
Venue:
Nacka naturreservat
Welcome to an exhibition and gathering, organized and curated by Essi Vesala as part of a degree project within Curating Art, International Master's Programme at the Department of Culture and Aesthetics.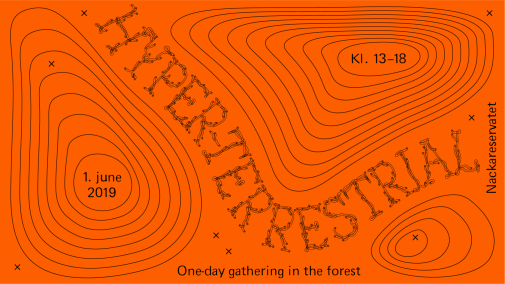 The exhibition takes the relationship that we, as humans, have to our surroundings, as a curatorial starting point. It starts with a premise, that our bodies are inherently connected to the earth, to the land and its materialities. In this relationship, thresholds render blurry, fiction and reality mix together. The exhibition engages with the forest in Nackareservatet, which is a shared space for being together with other bodies and beings. Hyper-terrestrial is an exhibition, but also an invitation to a conversation. How do we treat our surrounding environment, how could we perceive the forest as a space for emancipation, not for extraction and exploitation?
The exhibition consists of an audio piece by Anni Puolakka & Miša Skalskis, performative workshops by Malin Arnell & Mario Fjell, sculptures by Erik Thörnqvist, installation by Jonna Mayer and with an online video work by Jari Kallio. There's no linear path to follow, rather, the visitor chooses for themselves, how they experience the forest.
The works of the exhibition approach the topic from different perspectives: Mayer's work looks into automation and digital surveillance; Thörnqvist examines the nationalist socialist legacy of a state owned industry and formation of the nuclear family digital mining, crypto currencies and app-economies; Puolakka & Skalskis sound work is inspired by old Finnish poems in which vulva becomes a powerful character of its own right; Arnell & Fjell explore key issues for participation in territorial environments by emphasizing the sticky shivers of (self-)touching through vibrating togetherness.
Essi Vesala is a curator and producer based in Stockholm & Helsinki. Currently Vesala is researching entanglements between ecology and curating, through new materialisms and post-fossil thinking. Vesala investigates ways of doing exhibitions, that don't not rely on fossil capitalism, but take scarcity as a starting point. She is interested, how to work with the exhibition format without rigid institutional structures and with a sensitive approach. Vesala is inspired by queer feminist utopias & carving space for experimental practices.
This project is part of a degree project within Curating Art, International Master's Programme at Stockholm University.
Hyper-terrestrial supported by Arts Promotion Centre Finland and the Swedish-Finnish Cultural Foundation, and sponsored by Arctic Paper.
Time: Saturday the 1st of June 2019, from 13.00 to 18.00.
Location: Nacka Naturreservatet, Stockholm, Sweden.
Participating artists: Anni Puolakka & Miša Skalskis, Erik Thörnqvist, Malin Arnell &
Mario Fjell, Jonna Mayer and Jari Kallio.
One day only. Free entry.
How to get there:
Take the green line towards Skarpnäck, stop Björkhagen. 5 min walk from the metro.
Facebook event: https://www.facebook.com/events/2038049346491501/