Helio
Helio is the center of this attention, a project circulating between artist Emmeli Person and curator Neuza Faria, now spinning into two forms. It is part of a degree project within Curating Art, International Master's Programme.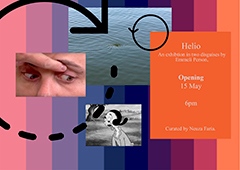 The central axis of the unfolding events is a fictional neurocognitive syndrome called Heliosynchesiy (Hēlios=Sun Synchesiy=Confusion). Initiated as a research project by Person, the works produced answer to the implications of an altered state of mind; supporting the management of symptoms and responding to a reality proposed by the perspective of a fictional patient.
Vernissage 15 May
During the month of May the project sets in two disguises. One as an information platform online, and the second as a physical treatment center located in the C-room of the Department of Culture and Aesthetics at Stockholm University.
The Vernissage will take place on 15 May from 6 pm to 8 pm at Stockholm University's Department of Culture and Aesthetics, C-room, Frescativägen 26.
Platform visible online from 11 May
As the sun sets on Stockholm Friday the 11th of May, www.google-my-symptoms.info goes online. Responding to the movement of the planetary body in relation to the sun, the platform is visible between dusk to dawn 11th to 20th of May. Only presenting itself in the vulnerable hours between night and day, the website is a place where hypochondriac entanglement with Heliosynchesiy can occur, sending light into the intimate relationship between screen and face.
The Treatment Center for Heliosynchesiy takes the specific traits of Stockholm University campus' architecture as its starting point, and proposes physical and collective methods for managing spiralling symptoms. Located in the C-room of the Department of Culture and Aesthetics, students and visitors are invited to lay down and peacefully sink into the main film in which sun-like objects fall from the sky to the ground in endless sunsets.
About the artist
Emmeli Person's research based practice is often formulated in sculpturally dense installations. Leaking into social formats, projects often act in the slippage between a phenomenological entanglement with material and the creation of scientific fictions that help narrate new or existing semiotic structures. Co-running the learning program at Index, and currently researching how children use the concept of reality, Emmeli is deeply engaged in how artistic practices can intervene and re-formulate how we structure learning situations.
About the curator
Neuza Faria is an art curator and writer with a background in law and pedagogy. After establishing herself in London, Lisbon and Tokyo, she is currently extending her practice to Stockholm.