Guest Lecture: Patrick Primavesi
EVENT
Date:
21 March 2018, 5.00 PM
-
21 March 2018, 7.00 PM
Venue:
509, Department of Culture and Aesthetics, Manne Siegbahnhusen, Frescativägen 26
Welcome to the open lecture "Site Specific Performance between Urban Environment, Global Context and Mobile Media Technologies", given by Professor Patrick Primavesi, from the University of Leipzig.
Abstract
As opposed to earlier forms of artistic and theatrical spectacles in public spaces, current intervention practices work on the quality of attention itself. Situations of gathering and dispersal are produced which encourage the participants to temporarily transform the norms of everyday behavior within the urban environment. The audio-sphere, to which almost everyone in contemporary urban culture is connected for individual entertainment and communication, is used for the imagination of different realities. The lecture will give some examples for these tendencies as a challenge also for a contemporary reflection of space, place, and performance.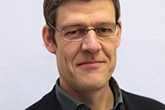 Patrick Primavesi
Dr. Patrick Primavesi is professor of Theatre Studies at the University of Leipzig and director of the Dance Archive Leipzig. Publications on modern and contemporary theatre, dance and performance art. Present research projects focus on politics of (re-)presentation, body politics, movement in urban space and performance archives in digital environments.