Dacia Viejo-Rose: "The Porous Boundaries and Edge Effects of Heritage"
EVENT
Date:
21 September 2017, 11.15 AM
-
21 September 2017, 12.00 PM
Venue:
Heritage and Borders, a symposium at the Department of Culture and Aesthetics
Dacia Viejo-Rose, Heritage Studies, Cambridge University, is one of the speakers at the international and interdisciplinary symposium "Heritage and Borders", at the Department of Culture and Aesthetics on September 21, 2017.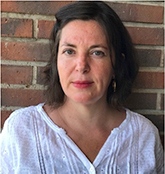 Dacia Viejo-Rose is a Lecturer in Heritage, Department of Archaeology, University of Cambridge co-coordinates the postgraduate degree programme in heritage studies. She is also a Director of Studies in Archaeology at Selwyn College, Cambridge. Previously she was British Academy Postdoctoral Fellow (2012–2014) based at the McDonald Institute for Archaeological Research and a Postdoctoral Fellow on the Cultural Heritage and the Reconstruction of Identities after Conflict (an EU FP7 project). She is the author of Reconstructing Spain: Cultural Heritage and Memory after Civil War (SAP, 2011) and co-editor of War and Cultural Heritage (CUP, 2015).
Abstract
The Porous Boundaries and Edge Effects of Heritage
Boundaries have, it would seem, always been ubiquitous to heritage practice: from the museum's glass cases to the monument's cordons. The barrier and spatial distance that they create are seen to be an essential protective measure for the precious and fragile treasure they enclose. Yet, as the intangible dimensions of heritage have come to the fore – emphasizing not only immaterial sites but also the social and
symbolic nature of heritage – these boundaries have increasingly come into question. Also coming into question are the dichotomies of heritage with all of their seeming ontological divides that they create: natural versus cultural heritage, public versus private, dark versus light, and of course, tangible versus intangible. Another effecting and pervasive boundary form in heritage is that between communities and nation states often leading to a proclivity for singular interpretations that neatly fit into the authoritative narrative of one group's mythical history. With this paper I want to explore what happens in the zones of encounter, the buffer zones, and argue for the productivity of these spaces and their importance for the future of heritage thinking and, indeed, protection. To do this I will propose ideas of edge effect and
ecotone in terms of heritage boundaries arguing for an ecosystems approach to heritage that addresses its social, relational, and malleable nature.
Last updated: September 13, 2017
Page editor: Joanna Bong Lindström
Source: Department of Culture and Aesthetics