Borders, territories and transitions in children's literature
EVENT
Date:
05 April 2019, 9.00 AM
-
05 April 2019, 5.00 PM
Venue:
The Auditorium, Manne Siegbahn Building, Frescativägen 24E
Welcome to an open international symposium at the Department of Culture and Aesthetics.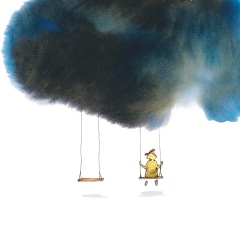 National borders, geographical boundaries and refugee experiences are motifs in children's literature that underline the importance of considering the role that different kind of borders play in children's lives. These motifs often include obstruction of movement or a racialization of children and young people. But the topic of borders is not merely confined to national borders in children's literature. Imagined or not, current or remembered, borders can surround or enclose, they can marginalize or adjoin. Even bodily restrictions, contacts between self and other, child and adult are topics that raise questions about borders and boundaries. The matter of bodies in children's literature and young adult fiction also includes depictions of sex and gender as well as transgender experiences by or about young people.
Speakers
Lies Wesseling, University of Maastrich
Peter Cumming, York University
Evelyn Arizpe, University of Glasgow
Vivian Yenika-Agbaw, Pennsylvania State University
Åsa Warnqvist, The Swedish Institute for Children's Books
Mia Österlund, Åbo Academy
Sara Pankenier Weld, University of California
Contact
For questions, please contact Elina Druker, elina.druker@littvet.su.se.
Programme
09:30–09:45

Welcome

09:45–10:15

Elisabeth Wesseling

"Brown Nieces" in the Netherlands (1890-1920): Dutch colonial children's literature as historical source

10:15–10:45

Sara Pankenier Weld

People Without Borders: Nomadism and Indigeneity in Classics of Swedish Children's Literature

Break
11:15–11:45

Vivian Yenika-Agbaw

Problematizing Home in Two Adolescent Novels

11:45–12:15

Åsa Warnqvist

"I'm sure this whole boy thing is just a phase": Transgender Characters in Contemporary Swedish Children's and Young Adult Literature

12:30–13:45
Lunch
13:45–14:15

Peter Cumming

Writing and Reading an Indigenous Adolescent: "Cultural Appropriation" or "Imaginative Empathy" in Lesley Choyce's Jeremy Stone?

14:15–14:45

Mia Österlund

Confronting the Trauma of the War Child in Picturebooks

Break
15:15–15:45

Evelyn Arizpe

Walking in Shoes that Cross Borders: Material Testimony and Embodied Simulation in Children's Literature on Migration

15:45–16:30
Final words and discussion