Aesthetics in Late Eighteenth-Century Theatre: Living, Performing, Experiencing the Enlightenment
EVENT
Date:
31 May 2018, 2.00 PM
-
02 June 2018, 4.00 PM
Venue:
Department of Culture and Aesthetics and Ulriksdal Palace Theatre Confidencen
International, interdisciplinary conference at the Department of Culture and Aesthetics and the Ulriksdal Palace Theatre Confidencen 31 May-2 June. Open to all.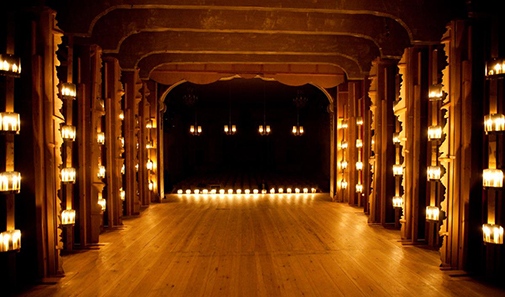 Theatre as an art form was of great importance to the late Enlightenment. With the radical developments in the arts during the late eighteenth century, normative poetics and hierarchic didacticism gave way to artistic experimentation and an emphasis on the personalized aesthetic, emotional, intellectual and moral response of spectators as a path towards emancipation from inherited thought patterns and lived practices. On the one hand, intellectuals were concerned with the stage as a medium for emancipation through aesthetic experience; on the other hand, dramatic poets, composers, choreographers, performers and designers revolutionized the art of the theatre, developing new forms and practices that contributed in various ways to the emancipatory project of the Enlightenment.
In this conference, we want to put focus on the relation and interaction between the philosophical discourse on aesthetic experience, the stage works, and the new theatrical (including the musical-theatrical) practices of the Enlightenment. Moreover, we want to discuss this historical theme in relation to today's performance and aesthetic experience of eighteenth-century stage works, not least when they take place in historical sites such as Confidencen, the venue of the second day of the conference.
Due to security regulations at Confidencen, those who wish to attend this conference day are asked to register by writing to Maria Gullstam: maria.gullstam@teater.su.se.
Programme
Living and Acting the Enlightenment
Thursday, 31 May, 14.00-18.15, the Auditorium (room 215), Department of Culture and Aesthetics, Manne Siegbahnhusen, Frescativägen 24E
Moderator: Willmar Sauter.
14:00
Registration and welcome
14:30-15:15

Dorthe Jørgensen (Aarhus University): "Felix Aestheticus and the Good Life"

15:15-16:00

Elisabeth Mansén (Stockholm University): "Wanting to Live the Enlightenment: The Sincere Wishes of Mary Wollstonecraft and Hedvig Charlotta Nordenflycht"

16:30-17:15

David Wiles (University of Exeter): "Acting the Enlightenment"

17:15-18:15
General discussion.

Respondents: Astrid von Rosen and Magnus Tessing Schneider.
Performing the Enlightenment
Moderators: Mark Tatlow (morning) and Meike Wagner (afternoon).
09:30-11:00
Performing Premodernity was a five-year research project (2013-2017) funded by the Swedish Foundation for Humanities and Social Sciences and based at the Department of Culture And Aesthetics, Stockholm University. Through a combination of academic and artistic research, the project brought together research in historical theatre practices, theatre aesthetics and dramaturgy while aiming to contribute to the revitalizing of historically informed performance today. The following short presentations will offer an introduction to the issues raised and examined by the participating researchers.
Mark Tatlow and Maria Gullstam: "Five Years of Performing Premodernity: A Video Introduction"

Meike Wagner: "Historiographical Perspectives of Theatre Praxeology"

Willmar Sauter: "Aesthetic Historicity: The Historical Theatre Space as Protagonist"

Magnus Tessing Schneider: "Historically Informed Performance and the Problem of Contemporaneity"

11:20-12:05

Jed Wentz (Academy of Creative and Performing Arts, Leiden University): "Reconstructing John Kemble's Neo-Classical Style: Sources, Problems, Beloved Scenes"

13:30-14:15

Maria Gullstam, João Luís Paixão and Laila Cathleen Neuman: "Research on Stage: Rousseau's Pygmalion-A Performing Premodernity Production"

14:15-14:45

Petra Dotlačilová , with Noah Hellwig (on the stage) and Anna Kjellsdotter (behind the scenes): "Materiality in Action"

15:00-15:45

Mark Tatlow, with Rodrigo Sosa Del Pozzo: "Peperl, Gasparo, Nancy, Bianca and Emma-and Haydn's Arianna"

15:45-16:45

General discussion
19:00-21:00 Gli Elisi, Gustavian soirée at Confidencen
The evening will begin in Gustavus III's Stockholm, with short extracts from operas by Uttini, Grétry and Kraus. The second part will feature the modern premiere of the cantata Gli Elisi o sia L'ombre degli Eroi by Calzabigi and Millico, written and performed as a tribute to Gustavus III during his visit to Naples in 1784. There will be introductory presentations about the music and its Gustavian context.
Speakers:
Jennie Nell: "Musical Enlightenment at the Court of Gustavus III"
Lucio Tufano: "A Musical Tribute to Gustavus III in Naples: Gli Elisi o sia L'ombre degli Eroi"
Mark Tatlow, musical director
Laila Cathleen Neuman, soprano
João Luís Paixão, baritone
Sigrid Vetleseter Bøe, soprano
Rodrigo Sosa del Pozzo, countertenor
Drottningholms Barockensemble
The Chamber Choir of Lilla Akademien
Tickets for the concert can be booked through the Confidencen website.
Experiencing the Enlightenment, Then and Now
Saturday, 2 June, 09:30-16:00, the Auditorium (room 215), Department of Culture and Aesthetics, Manne Siegbahnhusen, Frescativägen 24E
Moderator: Magnus Tessing Schneider.
| | |
| --- | --- |
| 09:30-10:15 | Michael O'dea (Université Lyon): "Before the Revolution: New Forms of Drama Criticism in the French Press, 1777-1789" |
| 10:15-11:00 | Bent Holm (University of Copenhagen): "Orfeo ed Euridice 2018: Music and Myth in a Modern Context" |
| 11:30-12:15 | Felicity Baker (University College London): "The Discourse on Inequality in the Don Giovanni Libretto" |
| 12:15-13:00 | Anna Cullhed (Stockholm University): "Mediating Medea: Aesthetic Potential on Stage and Page in the Late Eighteenth Century" |
| 14:30-16:00 | Concluding general discussion. Respondents: Inga Lewenhaupt and Melania Bucciarelli. |